Wonderful trekking experience of Pikey Peak
If you are really looking for a short trek in the Khumbu region which can be done in just one week's time then it's trekking to Pikey Peak. This trekking spot is nearest to Kathmandu city and this is the loveliest spot which even mountaineer Edmund Hillary liked as his most favorite spot to view Mt Everest.
The trek can be done in barely 3 or 4 days. But if you don't want to get exhausted very fast then it is suggested that you better take a leisurely walk for at least 6 days, so that you won't have much stress and strain of the trekking.
The best view of Mt Everest can be seen from this point. So, Pikey peak trekking is one of the most spectacular and less crowded trekking trails that can be enjoyed in the Everest region. This trek is especially popular as a scenic and an off beaten track among the trekkers.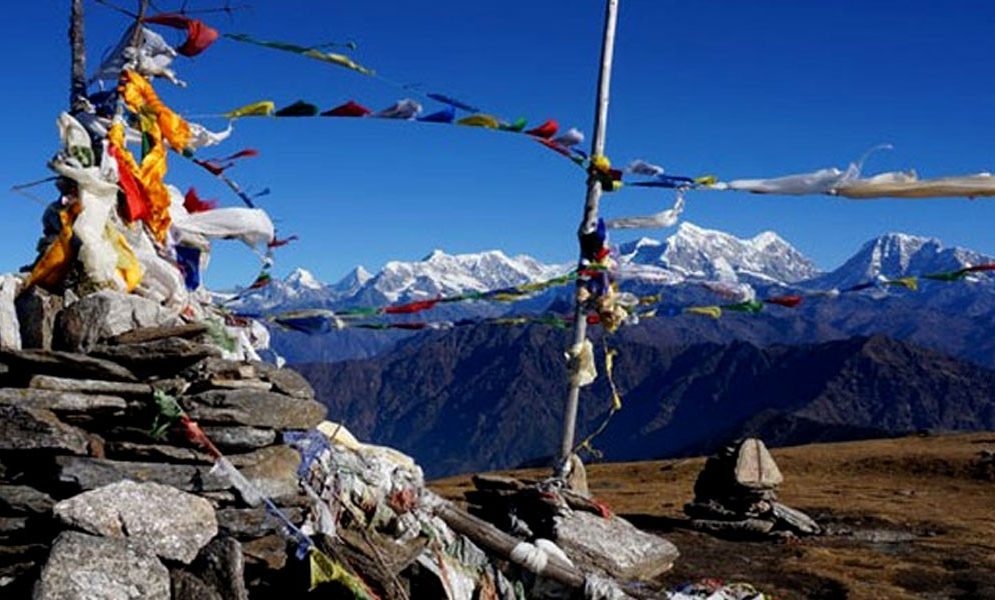 It is a newly opened trekking route in the Solukhumbu region that invariably tantalizes the travelers and trekkers to explore the enigmatic landscape, Everest, and Khumbu region with the unique hospitality of Sherpa people.
The wonderful sunset and sunrise scenes over the towering peaks of this region are unique and heart touching experiences one can revel here besides observing the Sherpa culture and lifestyle.
You will also be fortunate enough to view the world's most charming and enchanting panoramic glimpse of  Everest (8848m), Kanchenjunga (8586m), Makalu (8463m), Lhotse (8414m), and several other snow-covered glowing peaks.
Your trip to Pikey Peak begins with a scenic drive to Dhap Bazar from Kathmandu and then begins your trek. This trekking trail is one of the most preferred trekkers' trails, for the simple reason that the trail passes from the Lower Khumbu region.
Though considered as one of the best short treks in contention, the illustrious journey leads to the Pikey Base Camp with the thick spread of rich Buddhist culture along the way.
Pikey Peak trekking trail is famous for the lush valleys, old monasteries, huge Mani walls, beautiful vegetation, and rhododendron forests along with the beautiful sunset and sunrise views. Its tranquil landscapes and beautiful mountain views along with vegetation of oaks and pines make it all the more favorable and mystical to the trekkers in this region.
The trail suffused with beautiful rhododendron forests and small villages along with tranquil landscapes and an eye-catching view of panoramic Himalayan ranges are alluring to the trekkers of the world.
The best seasons are always the seasons of spring and autumn.
Trekking Plan
Day
Description
Altitude
Trekking
Day 1
Arrival in Kathmandu
4593 ft (1400 m)
–
Day 2
Drive to Dhap, Trek to Japre
9580 ft (2920 m)
4 hours
Day 3
Trek from Japre to Pikey Base Camp
11,942 ft (3640 m)
6-7 hours
Day 4
Sunrise at Pikey Peak, Trek to Loding
8,251 ft (2515 m)
8-9 hours
Day 5
Trek from Loding to Junbesi, Visit Thubtenchoeling Monastery
4-5 hours
Day 6
Trek from Junbesi to Taksindu
9711 ft (2960 m)
5-6 hours
Day 7
Trek from Taksindu to Phaplu, Visit Chiwong Monastery
8067 ft (2459 m)
5-6 hours
Day 8
Flight from Phaplu to Kathmandu
4593 ft (1400 m)
–
Day 9
Departure
Comments Off

on Wonderful trekking experience of Pikey Peak
Kathmandu:  Prime Minister KP Sharma Oli has finally inaugurated the newly reconstructed h…